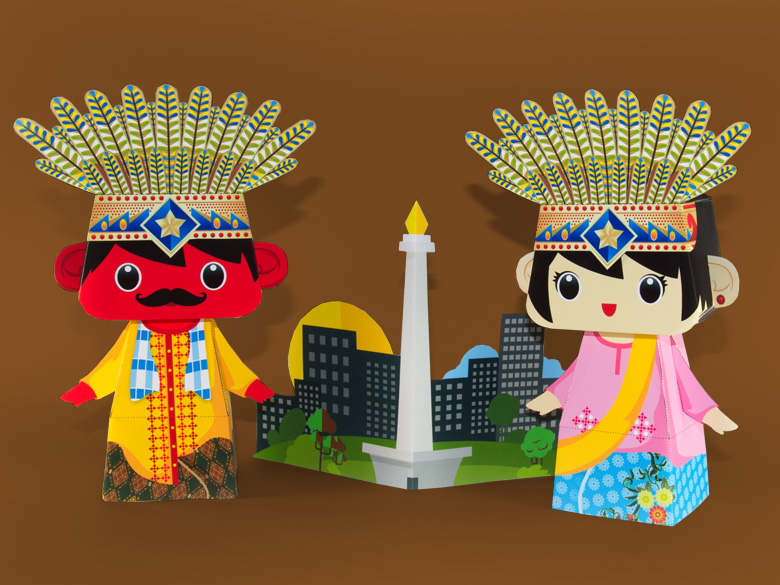 Papertoy Usage
All paper toys patterns in this site are for personal use only !
Please don't use it for commercial purpose.
Thanks! You are Awesome!
Ondel - Ondel
Chibi Version – Papertoys
Ondel-ondel is a form of folk performance using large puppets. It originated from Betawi, Indonesia and is often performed in festivals. The word ondel-ondel refers to both the performance and the puppet.
Ondel-ondel, the puppet, is about 2.5 meters tall with ± 80 cm diameter, made of woven bamboo. It is constructed in such a way so that it easily lifted by one person from the inside of the puppet. The puppet is usually dressed in brightly colored garments, and in some occasions, in traditional Betawi clothing. The puppet's mask face is typically made of wood, and the hair from dried palm tree leaves that have been shredded lengthways. An ondel-ondel can either be of the female or male gender. The wooden mask of the male puppet is traditionally painted red, while the female's is painted white.
Ondel-ondel as a folk performance is also practiced in other parts of Indonesia. In Pasundan, it is known as Badawang, while in Central Java it is called Barongan Buncis. In Bali, it is better known as Barong Landung.
Traditionally, ondel-ondel is performed to provide protection against calamities or for warding off wandering evil spirits. It is often thought of as a spiritual representation of the ancestors who safeguard the village residents and their descendants. Although, as of late, ondel-ondel is utilised more for livening up festivals or for welcoming guests of honor. Ondel-ondel is one of only a few Indonesian folk performances that has survived modernisation and is still being regularly performed, while other folk performances are slowly dying out.
The musical accompaniment for the ondel-ondel performance varies with regions, occasions and groups of performances.